Teng Long International Manpower Corporation
Address:
1177 Batangas street, corner Arnaiz ave Brgy Pio del Pilar, Makati City
Tel No/s : 5363950; 09088628364; 09171191925; 0917-1557945; 0917-1292455
Email Address : admin@tenglongph.com; recruitment@tenglongph.com
Facebook page: https://web.facebook.com/TengLongPh
About the Agency
Teng Long International Manpower Corporation is a land based recruitment agency duly licensed by the (POEA) Philippine Overseas Employment Administration and Department of Labor and Employment (DOLE) specializing in the career placement of Filipino professionals and skilled workers for overseas employment.
Teng Long International Manpower Corporation, is a duly accredited Recruitment Agency with License No. POEA-008-LB-022718-PL issued by DEPARTMENT OF LABOR AND EMPLOYMENT (DOLE) for operating business on the field of sending Filipino Overseas Worker (OFW) abroad.
Teng Long International Manpower Corporation, began its operation last February 26, 2018. Our board members are comprised of industry professionals who have years of experience in various recruitment and placement agencies.
TENG LONG aspires to become one of the rapidly growing and progressive agencies in the Philippines. The company conducts its business with utmost compliance to the legal framework of DOLE's regulations, and with the company's code of business ethics and practices.
Documents needed for Job Applicants
Resume with detailed job description
Employment Certificates
Certificate of Training's and Seminars Attended
VALID copy of Passport and NBI Clearance
3pcs. MOST RECENT 2×2 Photo
For further information, you may contact the recruitment agency at telephone number 5363950; 09088628364; 09171191925 or submit your application via email so the recruiter can contact you for further instructions. Walk in applicants can also visit the agency to submit their CV for immediate screening. The office of Teng Long International Manpower Corporation is located at 5F and RM 401 (4/F), Millie Bldg., 335 Sen. Gil Puyat Avenue, Pasay City, Philippines.
HOW TO APPLY?
All applicants are advised to apply using our online application.
Pre-selected applicants will be immediately notified via CALL or SMS.
below are the guidelines in applying online to help you for better understanding.
Step 2. click the MENU button
Step 3. click Apply Now
Step 4. fill up all required information:
***form 1. Basic Information
***form 2. Educational background
***form 3. Employment History
***form 4. Family Background
Notes:
Make sure that all the details are true and correct so we can asses your application properly.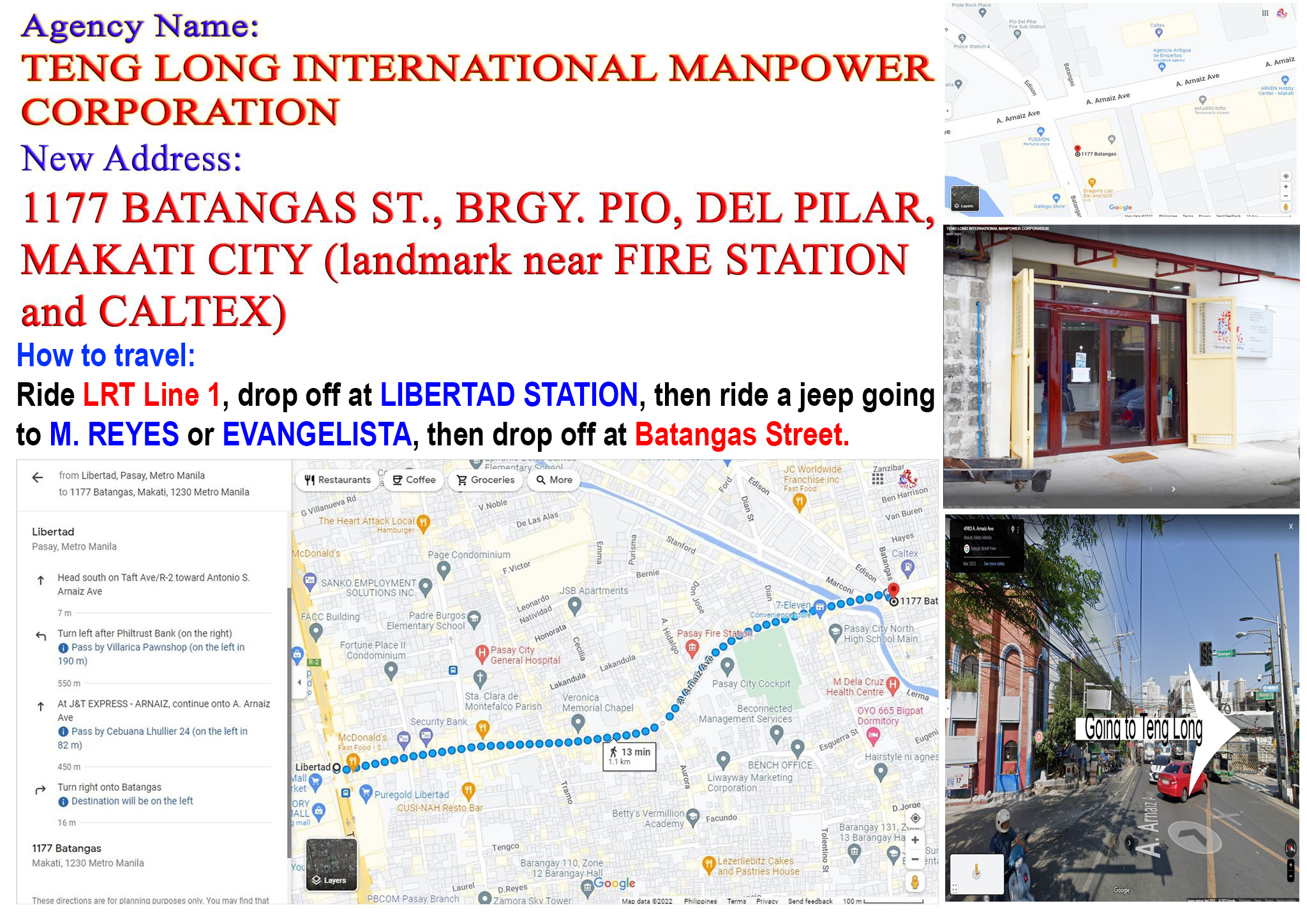 MAP LOCATION