Company Profile
Tong Hsing Electronics Industry co., Ltd. was established in August 1974. Based on the core technology-miniaturization of polycrystalline modules and ceramic circuit board manufacturing processes, after many years of development, it is now a leading manufacturer of niche polycrystalline module packaging in China It is also a relatively small scale ceramic circuit board factory in China. It is mainly engaged in the module construction of multiple chip modules, thick film hybrid integrated circuit modules, printed circuit board assembly, high-frequency modules, and automotive electronics and communications. As well as the manufacture of ceramic circuit boards, Tongxin Philippines subsidiary was established in September 1994 to expand the overall mass production scale.
TO QUALIFY:
College Graduate of any electronics or engineering related course
With 2-years work experience in semiconductor assembly
Must be able to operate, setup, do maintenance & repair on die attach bonder (example: ASM, Panasonic, Datacon)
Must follow & understand the instruction card to independently write die attach programs and then produce/ meet the specifications of the product (example: die position accuracy: +/- 25um)
Ex-Taiwan candidates are accepted but must be finished contract
Strictly NO TATTOO
No Colorblind
No late registered in NSO/PSA (from age 20 years old and above)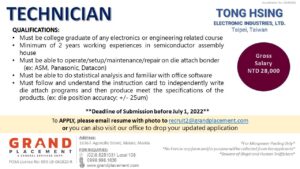 ——————————————–
TO APPLY, you can either:
Option #1:
Email RESUME with PHOTO to
RECRUIT2@GRANDPLACEMENT.COM
On Email Subject, please write: NAME-TONG HSING (example: JUAN DELA CRUZ – TONG HSING)
Option #2:
Submit your updated resume with accurate personal details at our DROPBOX (Office)
***NOTE: Qualified candidates will receive a call or text from their official mobile number***
——————————————–
TO INQUIRE, call our:
Landline: (02) 8525-1031 local 108
Mobile#: (0998) 998-1636
For Manpower Pooling Only
No fees in any form and/or purpose will be collected from the applicants.
Beware of illegal recruiters and Human Trafficker
About the Agency
Grand Placement & General Services Corporation is a land based recruitment agency duly licensed by the (POEA) Philippine Overseas Employment Administration and Department of Labor and Employment (DOLE) specializing in the career placement of Filipino professionals and skilled workers for overseas employment.
Grand Placement & General Services Corporation (GPGSC) is a company that engages in the business of recruitment and placement of professionals, skilled and semi-skilled Filipino workers overseas, duly registered with the Philippine Overseas and Employment Administration (POEA) and the Department Of Labor and Employment (DOLE) with license number POEA-155-LB-051916-R.
Grand Placement & General Services Corporation was incorporated in 1986 by its enterprising management who are fully aware of the typical Filipino's needs for a more decent paying job. Keeping in mind the mission to provide more employment opportunities, GPGSC is constantly on the lookout for ways and means to further materialize the goal of sourcing more jobs for the Filipinos. Since then, it has been successfully placing qualified Filipinos to a wide range of temporary and permanent positions across the globe.
Grand Placement & General Services Corporation has steadily grown to become one of the top land-based placement agencies in the country deploying overseas Filipino workers to different parts of the world. We are honored to received awards and recognition for being one of the top Philippine Recruitment Agencies that deploys Filipino workers worldwide.
We have an obligation to our Global Partners to conduct our recruitment activities lawfully with integrity and with professional business ethics. GPGSC is positioned to provide world-class services to our global partners. GPGSC employs proactive and trained personnel that play an important role in efficiently handling the recruitment and screening processes of candidates.
Agency: Grand Placement & General Services Corporation
MAP LOCATION