Company: ASIA OPTICAL CO., INC.
Location: Taichung, Taiwan
About the Company
Asia Optical was established in October 1981, focusing on optical products design and production. The company provides optical lenses, aiming devices, imaging intercepting telescope parts, laser range finder parts, microscope components and other products. Its products are applied in the manufacture of digital cameras, mobile phone cameras, projectors, digital video disk (DVD) optical reader heads, printers and scanners, among others. The company distributes its products primarily in Taiwan, Japan, other Asian markets and the United States. In 1982 a technical collaboration agreement with Sekon (Optical) Co., Ltd. was signed and the production of lens for optical apparatus were started. The business with Taiwan RICOH also started in 1982 by supplying lenses for 35mm auto-focus cameras. In 1988 Foreign Investment Business Units were set up in Southeast Asia to supply DC motors, lens polishing and other assemblies. In May 1998 it received ISO 9001 certification. In December 1999 strategic venture formed between Nikon Japan and Asia Optical and at the same year HANG ZHOU Nikon Camera Co., LTD. was established, focusing on producing camera lens and parts. In October 2000 it was officially listed on Taiwan Stock Exchange (TSE). In December 2001 it received ISO 14001 certification. In March 2005 a joint venture company with Japan Pentax Precision Co., Ltd. was established and named Pentax Precision Co., Ltd . Its main products are optical engines for black & white laser printers and related components. During the year 2010, the company obtained approximately 64.81%, 15.92% and 12.94% of its total revenue from optical lenses, aiming devices and laser range finder parts, respectively.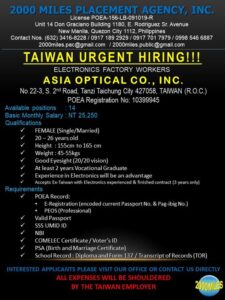 About the Agency
2000 Miles Placement Agency, Inc. is a land based recruitment agency duly licensed by the Philippine Overseas Employment Administration (POEA) and Department of Labor and Employment (DOLE) specializing in the career placement of Filipino professionals and skilled workers for overseas employment.
2000 Miles Placement Agency, Inc., is a corporation organized and existing under and by virtue of Philippine laws dully authorized by the Philippine Overseas Employment Administration (POEA) license to recruit, process and to deploy land-based overseas workers and have been a Training Partner for the Student Internship Abroad Program (SIAP) in Singapore with business address at Unit 14 & 15 Don Graciano Building 1180 E. Rodriguez Sr. Avenue, New Manila, Quezon City 1112, Philippines.
2000 Miles Placement Agency, Inc. has a firm commitment to uphold the reputation and quality image it had worked so hard to establish. They had successfully placed thousands of overseas Filipino contract workers in the biggest companies in Middle East, Europe, and Asian countries and therefore gained enough experience and expertise in the placement of personnel abroad. Our numerous satisfied clients and applicants are proof of the success that they have achieved.
________________________________________________________
DMW Approved Job Orders:
Factory Workers
Caretakers
Nursing Aide
2000 Miles Placement Agency, Inc.
________________________________________________________
2000 Miles Placement Agency, Inc.
Address: Unit 14 & 15 Don Graciano Building, 1180 Rodriguez Sr. Avenue, New Manila, Quezon City
Tel No/s :  4148717; 4168229; 7451472; 6615388; 09209503504
Email Address :  info@2000miles.org / 2000miles.pac@gmail.com
Facebook page: https://web.facebook.com/groups/2000miles
https://web.facebook.com/groups/379136288851072/user/100009243496200
MAP LOCATION